Acquire specialist skills and knowledge in Japanese & more!
In addition to Japanese language classes, students can also take classes in beauty, bridal, cooking & confectionery, sport, childcare, nursing and classes designed to help you pass university entrance exams etc. at vocational colleges and high schools etc. under the Sanko Gakuen Group, allowing students to acquire specialist skills and knowledge in the field of their choice.
Students have the opportunity to enter schools under the

Sanko Gakuen

Group (vocational colleges, junior colleges, universities) following graduation!
We provide a range of support for future studies at university or vocational college and career support etc. after graduation. Students can also progress to other schools under the SANKO GAKUEN Group for additional piece of mind.

Interact with other Japanese students!
Regular international events / homestay
Sanko Japanese Language School Tokyo regularly plans events to enable students to interact with Japanese students, giving them the opportunity to get practical experience conversing with Japanese people. We also offer homestay programs to help students gain a deeper understanding of Japan outside school by experiencing life in a Japanese home.

Interact with senior international students!
Connect with other international students enrolled at vocational colleges
Students have the opportunity to hear stories about the fun of studying in Japan and Japanese culture from senior students. Students come from all around the world providing opportunities to learn about other countries, including perceptions and customs etc. We have created an environment where students can go to others for advice when they have trouble assimilating into life in Japan or experience other difficulties.

Live in the school dormitory at special discounted rates!
The head of boarding lives on-site to help students through their day-to-day life. Further, the dorms are furnished and meals are supplied helping students to assimilate into life in Japan. Along with international students from all over the world, boarders also include Japanese students, making it easy to create friends and learn Japanese.
Education policy at
Sanko Japanese Language School Tokyo
With vocational colleges in the field of beauty, bridal, cooking & confectionery, nutrition, sport, childcare, nursing and healthcare to produce professional graduates to contribute to the further development of their own countries and the international community, Sanko Gakuen provides education in Japanese language proficiency and a range of other specialist Japanese skills and knowledge.
In our role as educators of future generations, Sanko Gakuen is committed to nurturing human resources capable of working in a broad range of fields, teaching them to express themselves efficiently using language and arming them with the specialist skills and knowledge they need to contribute to the creation of a new culture and the economic development of countries all over the world.
Sanko Gakuen

Network – Expanding the possibilities following graduation
1 university, 1 junior college and 56 vocational colleges in 11 cities across Japan
Sanko Gakuen has a history spanning 30 years and has established 1 university, 1 junior college and 56 vocational colleges in 11 major cities across Japan.
These schools offer studies in a variety of fields, including beauty, bridal, cooking & confectionery, nutrition, sport, childcare, nursing and healthcare etc. with a large number of students studying to become beauticians, makeup artists, aestheticians, nail technicians, wedding planners, fashion stylists, chefs, pastry chefs, nutritionists, childcare workers, care workers, medical clerks, sports trainers or instructors etc.
One advantage of Sanko Japanese Language School Tokyo is that following graduation, we can give international students priority in providing them with an environment to continue their studies in a broad variety of fields.
Over 120,000 graduates from

Sanko Gakuen

Group schools are now working in industries,
including the beauty, bridal, confectionery, bakery and cooking industries
Lineup of fields you can study at
Sanko Gakuen
Interviews with international students studying at a

Sanko Gakuen

vocational college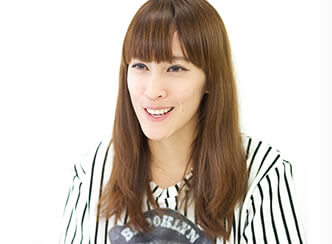 I am refining my Japanese and expertise to follow my dream of becoming a wedding planner in Japan.
I became interested in studying in Japan after listening to the stories about Japan from my older sister who lived here for 8 years. A lot of special terminology is used in class but I make a habit of looking up words I don't know. I especially like classes on makeup, flowers and fashion etc.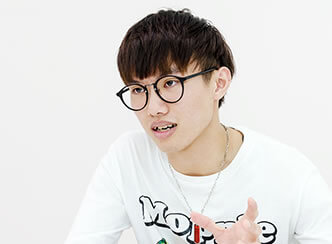 All of my concerns about studying overseas were resolved during trial classes. I was inspired by the ambience of Shibuya which heightened my interest in fashion.
There are no vocational colleges dedicated to the beauty industry in Taiwan so I made the decision to study overseas to study in this field in Japan. I looked at several schools but chose Sanko due to the close relationship enjoyed by teachers and students that I saw during trial classes.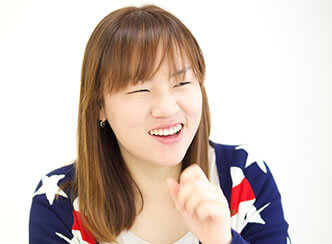 I decided to study overseas to improve my skills and knowledge in beauty therapy. The teachers and other students are friendly, making it easy to ask about things I don't understand.
I studied beauty therapy in Korea but enrolled in the Tokyo Beauty Art Vocational College to further improve my skills. I am particularly enjoying the beauty therapy classes and hope to open my own beauty salon in Korea in the future.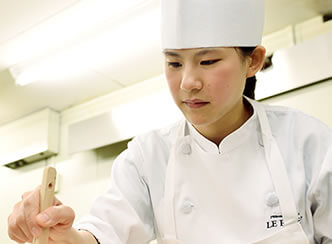 Following graduation I hope to follow my dream to become a pastry chef. With encouragement from the teaching staff and my friends I was able to overcome the language barrier.
I had worked part-time making desserts and that formed the trigger to choosing this school. The language barrier was a concern for me in finding work in Japan and I almost gave up but was able to find employment with the company I wanted thanks to the encouragement from my teachers and friends.